مَّثَلُ ٱلَّذِينَ يُنفِقُونَ أَمْوَٰلَهُمْ فِى سَبِيلِ ٱللَّهِ كَمَثَلِ حَبَّةٍ أَنۢبَتَتْ سَبْعَ سَنَابِلَ فِى كُلِّ سُنۢبُلَةٍۢ مِّا۟ئَةُ حَبَّةٍۢ ۗ وَٱللَّهُ يُضَـٰعِفُ لِمَن يَشَآءُ ۗ وَٱللَّهُ وَٰسِعٌ عَلِيمٌ ٢٦١
[2:261] The example of those who spend their wealth in the cause of Allah is that of a grain that sprouts into seven ears, each bearing one hundred grains. And Allah multiplies ˹the reward even more˺ to whoever He wills. For Allah is All-Bountiful, All-Knowing.
Imam Sadiq (a): "O Allah, these days (of Dhul Hijjah) that You have preferred and favoured on other days, You have allowed me to attain them out of Your favour and mercy; so, (please) descend on us Your blessings."
Donate Now to our Facility Maintenance and Upgrade campaign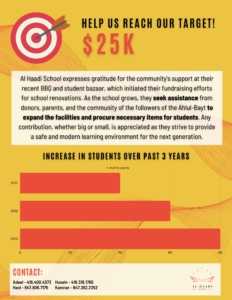 After the completion of another successful school year, we ask Allah (swt) to bestow upon everyone who supported us His great mercy and most wonderful blessings
Al Haadi School started with just about 40 students in 2021. With the grace of Allah that number has more than doubled for the year 2023-24 with very limited space. The increasing demand means there is a need for expansion and modern facilities.
Your support in procuring essential resources like desks, chairs, laptops, and other necessities is greatly appreciated. The required list of items with quantities can be provided upon request.
Join us to help educate our next generation by sending your donation directly to accounts@alhaadi.ca or alternatively through PayPal below. You can also email us at info@alhaadi.ca if you would like to sponsor a specific item in the name of your marhoomeen.
For more information, feel free to contact us at:
Husein Ali: 416-318-1765
Hani Abidi: 647-806-7175
Adeel Malik: 416-400-4373
Kamran Jafri: 647-382-2352